3.00 am, 12th February and the adventure began. My co-driver Becky Day, kindly found by William Bunn of the Equine Driver Agency, and I loaded up Doonaveeragh Emma, Luendi and Espirito Santo and set off for Dover. We met the two Breen lorries in Dover and then started the three days of driving to Southern Spain.
We spent the first night near Poitiers in France and then drove into Spain and over the Pyrenees to spend the second, very cold and windy night, near Valladolid. The third day was full of spectacular scenery, when you see Flamingos on the side of the road you know you are a very long way from Nutley. Sadly we had a blow-out only 10km from the show, but crawled slowly on to find that Jade had kindly bedded up all the boxes, and while Shane's wonderful team of Nattie Biderman, Leo Tierney, and Harriet Webb and I settled the horses, Edward and Julia Bunn and Becky sorted out the lorries, parked them and hooked them up for us.
Sunday morning was spent discovering the beautiful hacking round the golf course, about 40 minutes worth of sandy tracks, and then on Monday Luendi and Espirito Santo had to get to work as they were jumping on Tuesday. The course for the six year olds was very straightforward, but it was 1.20 - bigger than they had jumped in the ring. They both jumped well for a few baby mistakes, and rather surprised their breeders Shane and Michael Quirke who thought they were both five and were a bit perturbed that I might have embarked on a rather ambitious plan! They jumped well on Wednesday and then didn't jump on Thursday when the course did look a bit strong.
Mark, and my great friend Pippa Green arrived on Thursday just in time to watch Emma wing her way rather strongly round the 1.20 for 6th. Pippa very kindly took my washing back to her house, what a luxury, and Mark settled down to lorry life. Emma was rather wild in the 1.30 the next day resulting in a bitting re-think, and a good clear in the 1.30 on Sunday. We had a wonderful dinner with Chloe and Shane at La Fontanilla on the beach in Conil on Saturday and on Sunday the washing was returned, lovingly ironed, and Mark departed for Sussex.
The second week the weather started to warm up, Luendi jumped not only her first ever round on grass, but they both made a great start to the week to be equal first. They continued to jump well for a few baby mistakes, but both improved every day. Luendi having always been very quiet to ride also took up some very alarming bucking, a new party trick to add to escaping from the stable - she can get under the lowest stall-guard while you are getting the quickest bucket of water. Emma jumped consistently well in the 1.30's on grass for some low placings, and another week was over.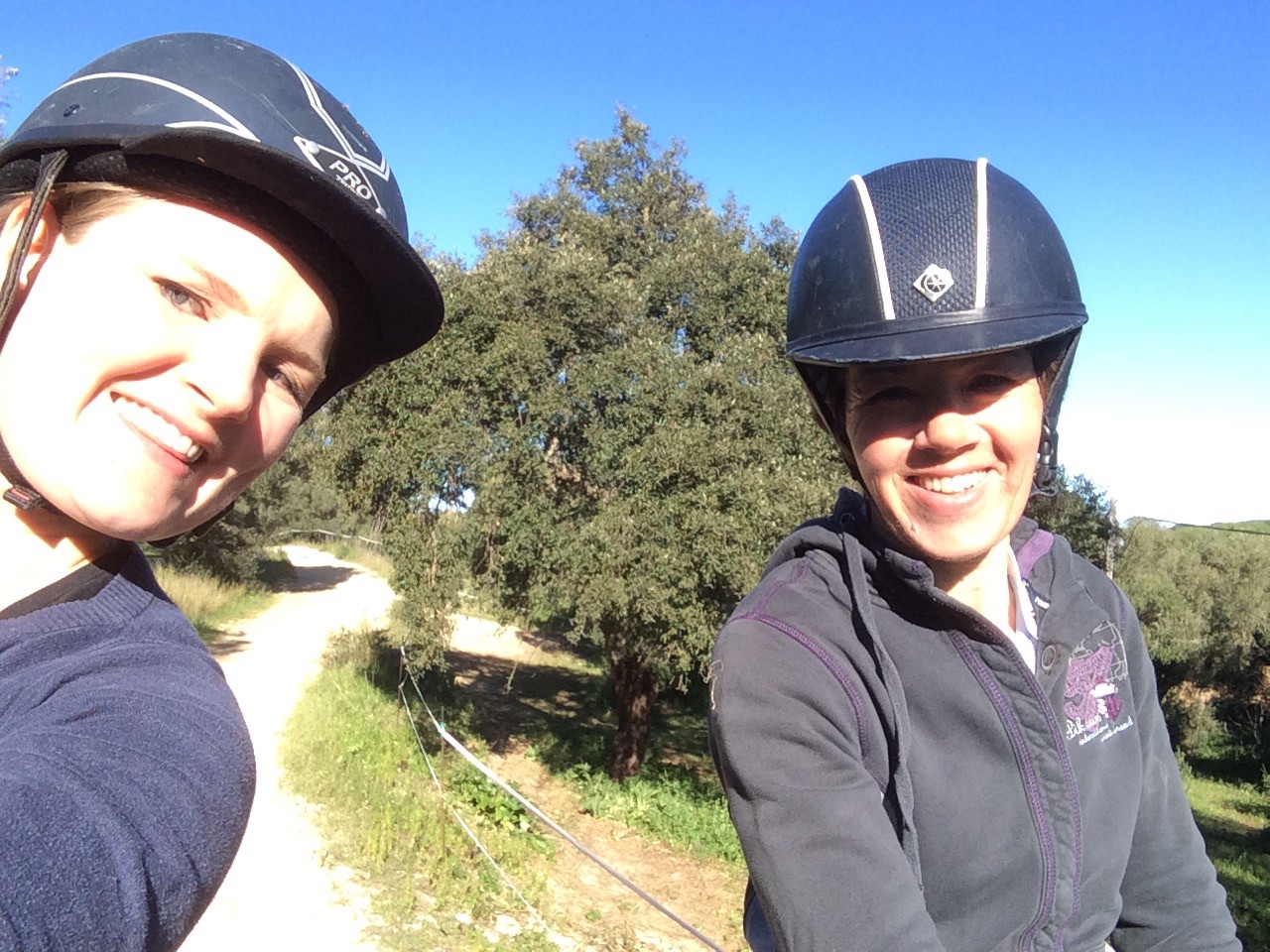 Week three started with Espirito Santo jumping really consistently and Luendi having a few helicopter moments when she thought she was faced with a big oxer. Luckily there was a permanent clear-round ring on grass with two courses, one at 1.10 and one at 1.20, so a few goes round both rebuilt her confidence so that she presented me with a clear round and an excellent start to my birthday. When I got back to the stables Nattie, Leo and Harriet had decorated my stables with balloons and streamers and cards, what an amazing team of friends, it really made my day. Mark and Sophie arrived in time to join us all for a birthday lunch and a delicious chocolate cake kindly bought by Jade - absolutely scrumptious - so bad luck for those who gave up chocolate for lent!
I escaped from the lorry to the charming Califa hotel in Vejer for four nights while Mark and the girls were with me. What a luxury to stand under the shower for as long as you want, and also not to have it on a funny angle. It was lovely to have a little chance to explore Vejer which is an really charming old fortress town on the side of a steep hill. We also took the opportunity to pay Nattie, Leo and Harriet back a little bit for their kindness with a delicious Moroccan meal in the hotel.
Emma jumped well, but sadly had a fence down in all three classes at the weekend. There was a little bit pressure of wanting to do well for Mark and the girls, and as is often the way I do less well when I think I should win than when I think I am going to die! Sensible advice on keeping my hands up, and a lot of work on improving the canter more, and concentrating on giving Emma plenty of room in front of the fences ensued. I said a sad goodbye to everyone after breakfast on Monday and we were on to week four.
Both the six year olds jumped well over courses well up to 1.25, although Espirito Santo felt so tired on the 3rd day that I pulled him up. Luendi jumped a good clear round and made a couple of baby mistakes on the other days. With increased height and difficulty and babyish horses small mistakes are quite costly, but they both improved every day.
Click on the photo to see the slideshow.
Week four was the highlight of my show. I opted to jump the 1.35 Accumulator in the main ring on Thursday. Walking the course it looked good for Emma. Nice lines early on to settle her and not too big at the beginning. Obviously, being an accumulator, it got bigger and bigger, until the Joker which was just the same size as Reiko Takeda of Japan - 1.50. Emma jumped a fabulous round to finish 8th.
The second day Emma was a little bit silly in the 1.35 and I thought we were lucky to only have four faults. I then discussed with Shane whether to play safe and jump the 1.30 on Sunday or to go for the challenge of the 1.40 Grand Prix. We decided to go for it on the basis that if it didn't go well we had another week to drop down and put things right. What a great decision - she was unbelievable, just tipping the second last fence for 12th place in our first 1.40 Grand Prix.
Then it rained! Tuesday was just English type rain - we had no idea what was to come. Rabbit dropped down to the five year old's, which was 1.20 and jumped a super confident round, and Luendi jumped confidently round the 1.30 six year old's although she had a couple of poles and in retrospect I think she was very tired. On Wednesday night it really rained, so that on Thursday morning the whole show was under two feet of water and all the competition was cancelled. Only the Irish and a handful of English seemed to think it was possible to ride at all! On Friday I moved Emma from the 1.35 on grass (which was subsequently cancelled) to the 1.30 on sand - she jumped beautifully but I never got to walk the course and had to ask the pole picker the way after fence 6 - which resulted in a fair few time faults! She jumped a great round in the 1.35 the next day just knocking the second last. I was travelling and turning, but I'm not sure I was actually riding! On Sunday we once again woke to two foot of water, a delayed start to all competition, ring changes and rider meetings. Eventually the 1.40 Classic Grand Prix went ahead on really good going, but a small sand ring which made an extra challenge for Emma. She actually jumped a good round, but found two distances short and just tipped the last part of the combination. There was a difficult turn to the last double which I just didn't make, so rather than pull her round to it I cantered past and came to it evenly for a lovely finish.
Click on the photos to see the slideshow.
My lovely next door neighbour Karen Rees arrived on Sunday afternoon to help me with the long drive home. Sadly she was cheated out of a spectacular view of the Pyranees by a landslide which closed the main road. We got an in depth view of the industrial towns of Northern Spain instead and she was a little bemused that the border between Spain and France is totally invisible - although lots of people get stopped and fined on it! We had a very cold stop at Valladolid and then a very comfortable stop with Alison McIvor at her wonderful new home and stables near Angouline in France. We can highly recommend the delicious supper, beautiful setting and very comfortable beds. Finally we arrived home at 10.30 on Wednesday evening. Business as usual from Thursday morning, seven to muck out as we bought back horses for Shane and for Brian Cassidy and then full speed ahead for the new washing machine.
My second biggest travel adventure is now over. The first was back-packing around India and South-East Asia when I was 21. I did look at a map before I went this time and came back without dysentery, just the Sunshine Tour cough. What an amazing opportunity: I learned so much about the horses, and I expect about myself; with the help of the amazing Emma I achieved things that I thought were impossible, and the six year olds really surprised me with their boldness and their improvement. Both of them were only jumping Newcomers when we left and are now flying round 1.25's. Obviously I couldn't have hoped to achieve all that without the support of Mark, endless pushing and encouragement from Shane, Chloe's organisation and the help and support that I had from Nattie, Leo, and Harriet at the show, and definitely not without Karen helping me drive home. Last, but definitely not least, thank you to Debs Coles-Vincent of Diva Equine and Country who provides me with beautiful bridles, saddle cloths and Cavalor supplements.